It's been
a long winter for the Midwest! I think it's finally time to start enjoying the outdoors and I'm very ready. In celebration, I wanted to share some of the same principles that I've shared in recent weeks for the inside of your home and see how these same ideas can be applied to outdoor spaces.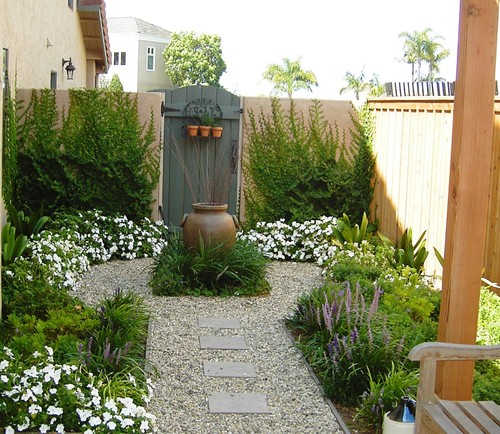 A few weeks back, I shared the way flooring enhances spaces specifically in staircases. This same idea is applied in the above picture with the use of the textured pathway and the plants as well add texture in the space. The path calls out to you to walk down it and enjoy the natural landscaping along it's edges. Additionally, I'd like to point out this space seems to be small, yet even small outdoor spaces can be enjoyed when the right design elements are utilized. I could chat away the afternoon with a glass of lemonade and a good friend in this area.
Contemporary Patio
by
Toronto Interior Designer
Terra Firma Design
Another element we've talked about in recent weeks is the ceiling as the fifth wall. In the above photo, the fifth wall -- the pergola over the top -- creates a cozy feeling encasing the space, but still allowing all the natural elements to seep inside. Again, the same design elements that are utilized inside the home make this outdoor space one to admire.
The door in the above picture makes me want to walk through it to see what's on the other side! Last week we talked about creative painting and I shared my idea about painting doors different colors to add an element of surprise and to enhance the space. I can imagine this door painted a surprising color above to draw your attention and to make walking through to the next outdoor space even more exciting.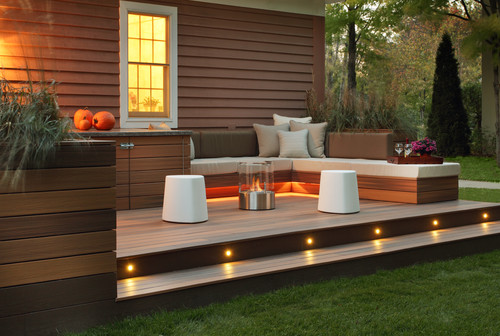 Modern Patio
by
Benton Harbor Architect
Karen Garlanger Designs, LLC
Lastly, what I love about the above photo (in addition to the clean lines) is the use of lighting to enhance the space. Lighting is one of my favorite design elements. Right away I'm struck by how the lighting illuminates the couch area and the steps. The lighting is not only functional, it is beautiful and frames the space without the use of walls.
Until next week my friends who adore design as much as I do! Yours, Joanie