Mirror! Mirror! On the wall, I'm here today to give the best design tips of all! Hello, from South Dakota! Excited to share how mirrors work, not only as an excellent element for wall decor, but how they enhance spaces in ways we might not think about. Let's look at a few things to keep in mind as you select and place mirrors.
Scale is one of the most important considerations when working with any part of your design and proportion is key. A single mirror certainly would not work to cover the large space pictured above, but a grouping of these mirrors is a creative way to add interest to this staircase wall.
The above pi

cture takes my breath away.

When placing a large mirror, the view of the refection seen in the mirror is part of the design. Notice how this beautiful chandelier and the staircase from an adjoining room are ref

lec

ted in this mirrors view. Beautiful.
I like to use mirrors to reflect light

and

brighten a dark space or enlarge a small space. The mirrors behind the glass shelves in this dining room certainly brighten the large wall. The lighted area, combined with the reflective value of mirror and glass, is a stunning combination in any room.
Can you imagine a bathroom without a mirror? Of course not. However,

in the picture above,
the use of mill work on this wall combined with beveled mirror above the sink and the addition of the lighted sconces takes function to a whole new level.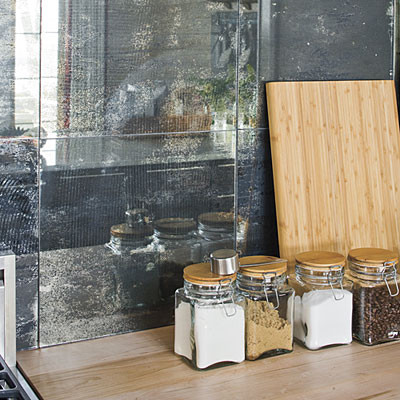 I'm crazy for this back splash application. Antique looking mirror has found it's way to the forefront in the last few years. It's distinctive look is particularly appealing and has gained popularity for use in many applications. The same antique mirror element is used in the dining room below. I can fully imagine the beautiful dining experience in this mirrored space with my family and friends.
For me, b

oth the photo above and below are examples of exquisite use of mirrors. The mirrored wall behind the bed is inspirational and makes this already lovely room incredible by addin

g depth

. In the photo below, the use of mirrors gives the fireplace visual grandeur and is genius. Again, the

broad

scale of the mirrors adds the im

pact in both of these pictures.
Mirror! Mirror! Looking forward to sharing more design techniques next week. Yours, Joanie